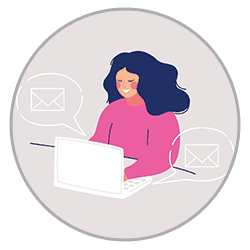 Sign up to our email and get information straight into your inbox. We send a regular newsletter out on a Sunday evening which lets you know about all of the things that we have going on.
We don't try and sell you things and we don't try to fundraise. Our newsletter is all about services and information to help you in your caring role.
Why not give it a try. If you don't like it you can always unsubscribe with one click. But we are convinced that you will like it.
Join the 2,500 other carers in Barnet and beyond who receive our regular newsletter.